Is Your Business Creating Content for Each Stage in the Customer Journey?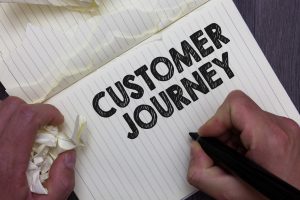 From social media posts to email campaigns to blogs on your website, creating content is an integral part of any marketing strategy. However, content creation can be a time-consuming and costly process, so it's important to ensure that each piece is designed to move potential customers towards a buying decision. The key to implementing a content strategy that helps convert prospects into customers is to create content for each stage in the customer journey, with the goal of providing relevant, timely, high-value information for your prospects as they navigate the process of deciding whether your product or service is right for them. 
Although the specific stages of the customer journey may vary from business to business, the process—which is also known as the sales or marketing funnel—typically involves the following steps: awareness, consideration, conversion, and retention/advocacy. As you develop a content strategy for your business, consider the following guidelines for creating content that keeps prospective customers engaged and propels them along their journeys from initial awareness of your brand to conversion and beyond. 
Awareness
At the awareness stage of the customer journey—or the "top of the funnel"—prospective customers are discovering your business for the first time. Approximately 80 percent of the content you create should be intended for this stage. It is important to understand that prospects in the awareness stage may not even be considering making a purchase yet—they are simply seeking information related to a question, need, or problem that they have. Therefore, awareness-stage content should be designed to create value for your prospective customers and place your brand on their radar without overtly pitching your products or services. This will require your business to first develop a comprehensive understanding of your target customer. What are their pain points, needs, and concerns? What are some common questions that they likely encounter? What might they be searching for online? 
After developing profiles of your target customers, create content focused on addressing their pain points or answering their questions. This will begin to establish your business as a trusted resource and cultivate positive feelings about your brand, which will be instrumental as prospects move closer to a buying decision.  
Types of content geared toward the awareness stage may include informative blog posts, free white papers or e-books, "how-to" guides, videos, checklists, ads, and social media posts. This content should be distributed across as many channels as possible in order to attract a broad range of prospects to your website. 
At LuCorp Marketing, we help businesses in a wide variety of industries target prospects at each stage of the customer journey. Here is an example of an awareness-stage blog post that we developed for one of our clients, a company that creates wrought iron pool barriers for residential and commercial properties: https://dcspoolbarriers.com/2019/02/09/are-your-pool-barriers-compliant-with-arizona-law/ 
Consideration
At the consideration stage of the customer journey, prospects are beginning to think about making a purchase. The goal is to encourage prospects to consider your products or services favorably as compared to those of your competitors. When creating content for this stage, focus on providing more information about what your business offers and proffering solutions to specific questions or problems that your prospects are likely to face. When appropriate, address how your products or services can resolve common challenges. Ideally, consideration-stage content will encourage prospects to engage with your business, such as by subscribing to your email list or contacting you directly. 
Types of content to create for the consideration stage may include case studies, webinars, product spec sheets, and email newsletters. We crafted the following blog for our client as a way to help persuade their customers that wrought iron is the optimal choice for pool fencing: https://dcspoolbarriers.com/2019/07/16/wrought-iron-pool-barriers-the-best-investment-in-pool-safety-for-commercial-properties/ 
Conversion 
By the time your prospects reach the conversion stage, they are ready to make a purchasing decision and are seriously considering your product or service. The goal for creating content at this stage is to resolve any doubts that prospects may have about buying from you and focus on closing the deal. Types of suitable content may include testimonials from satisfied customers, information about the pricing or purchasing process, and demonstrations. You may also wish to offer free trials of your product or service, estimates or quotes, special offers, or complimentary consultations. 
The following example of a conversion-stage blog post that LuCorp Marketing developed for our client highlights the company's expertise as a way to boost prospective customers' confidence in moving forward with a buying decision: https://dcspoolbarriers.com/2019/01/08/stay-compliant-with-community-fencing-requirements-with-a-pool-fence-from-dcs-pool-barriers/ 
Retention/Advocacy
The final stage of the customer journey involves retaining customers, maintaining their satisfaction, encouraging them to purchase additional products or services, and transforming them into advocates for your business. This may be accomplished through email nurture campaigns or other targeted forms of content that provide answers to frequent questions about using your product or service, thank customers for their business, inform them of other products or services that you offer, and ask satisfied customers for testimonials. By cultivating ongoing customer satisfaction and spreading the word about the experiences of happy customers, you will help ensure that your business always has a strong base of prospects to draw into your customer journey. 
The following blog that we crafted for our client offers an example of how to turn a positive customer review into a piece of content that can be used on your website, social media platforms, and email campaigns: https://dcspoolbarriers.com/2017/01/19/dcs-pool-barriers-solves-a-rust-problem-for-one-happy-customer/ 
By creating content mapped to each stage in the customer journey, you can establish your brand as a valuable resource and reach your prospects with the right information depending on where they are in their purchasing decision. Need help with developing content for your customer journey? Contact LuCorp Marketing to schedule a free consultation! As a digital marketing agency, one of our specialties is creating content for blogs, websites, case studies, e-books/white papers, and social media. We also provide digital advertising, public relations, event marketing, and email marketing services. 
(Sources: "Move Prospects through the Customer Journey with a Solid Content & Digital Marketing Strategy" – presentation by Vertical Measures at Digital Summit Phoenix 2019, https://www.inc.com/jeff-pruitt/connecting-dots-on-your-content-marketing-strategy-with-journey-maps.html).